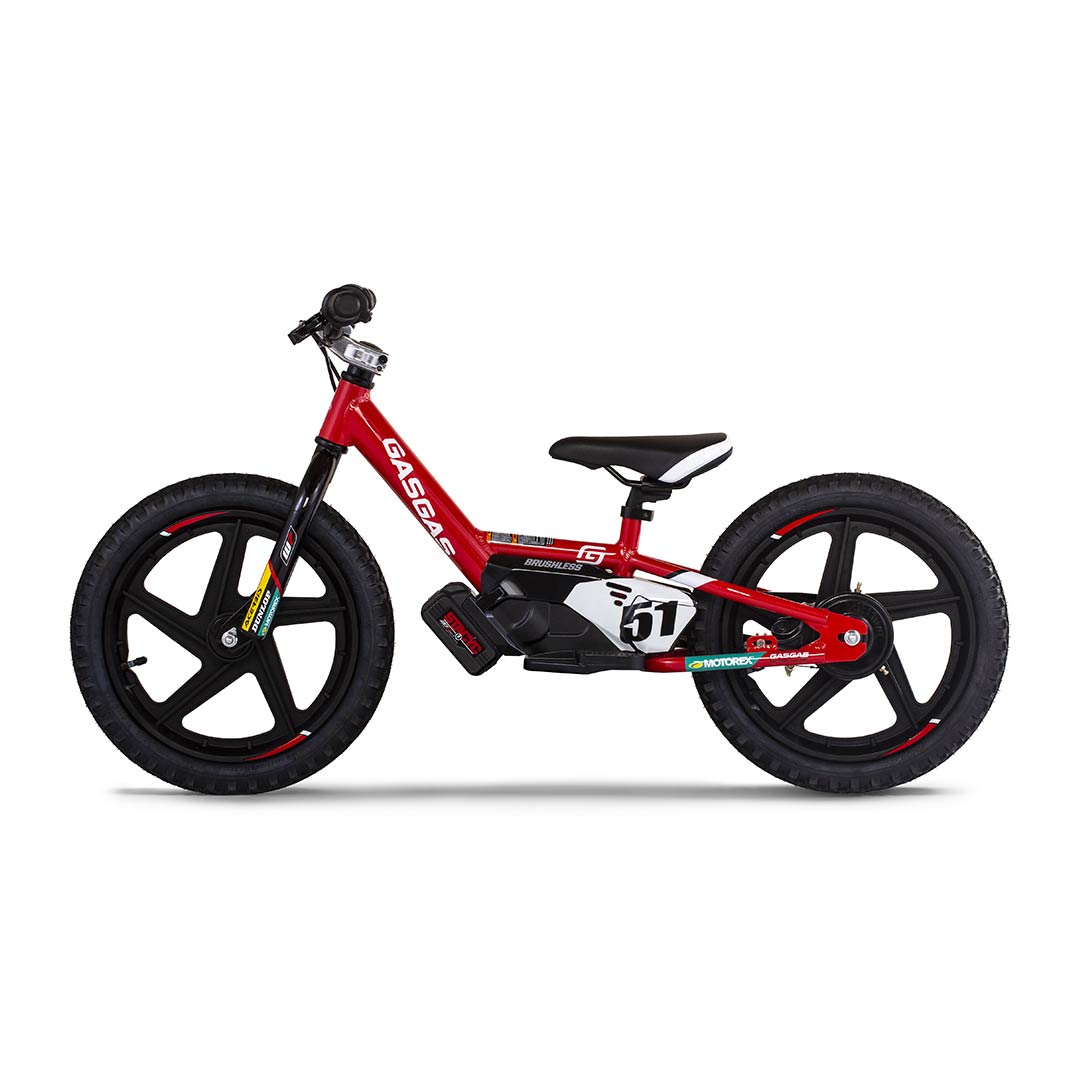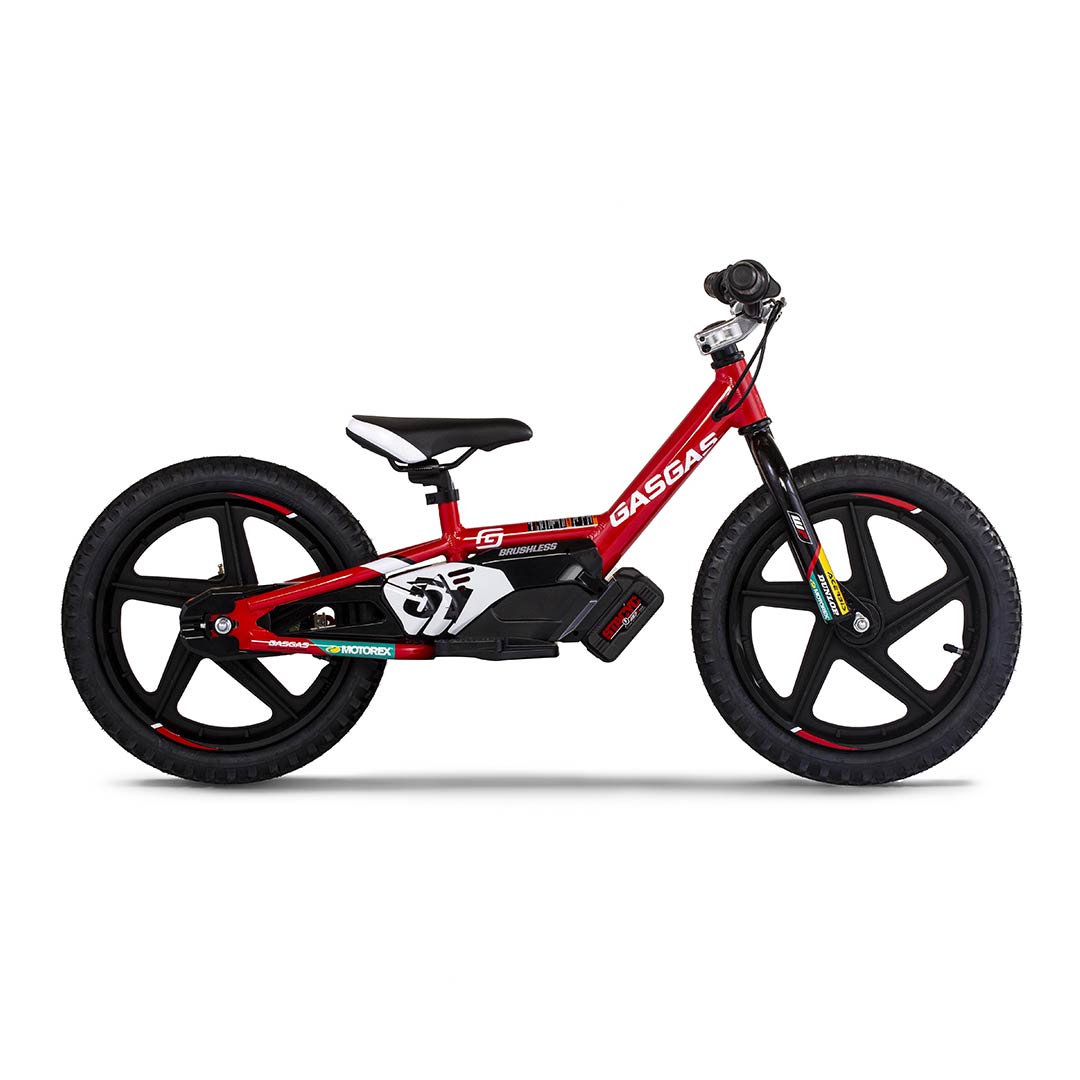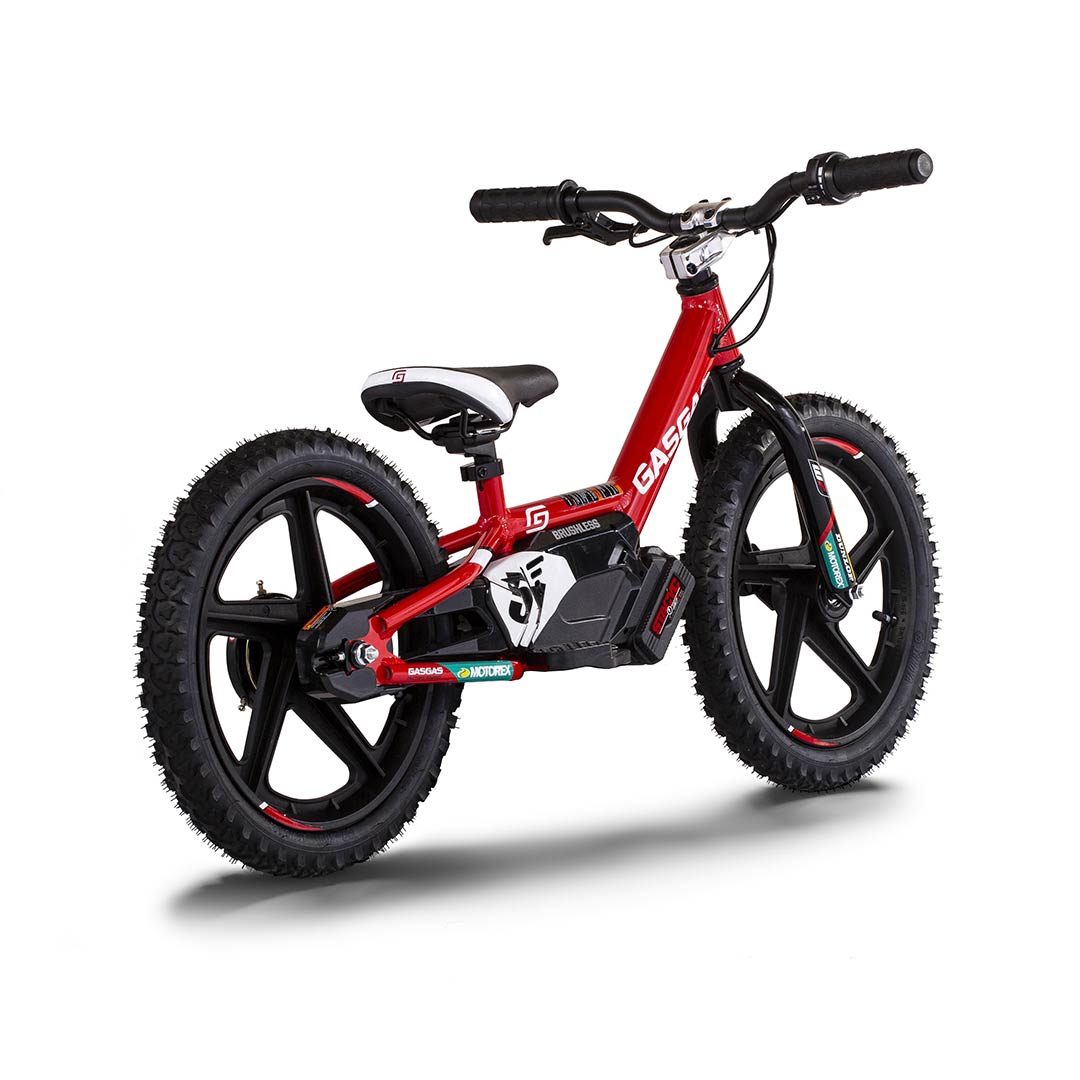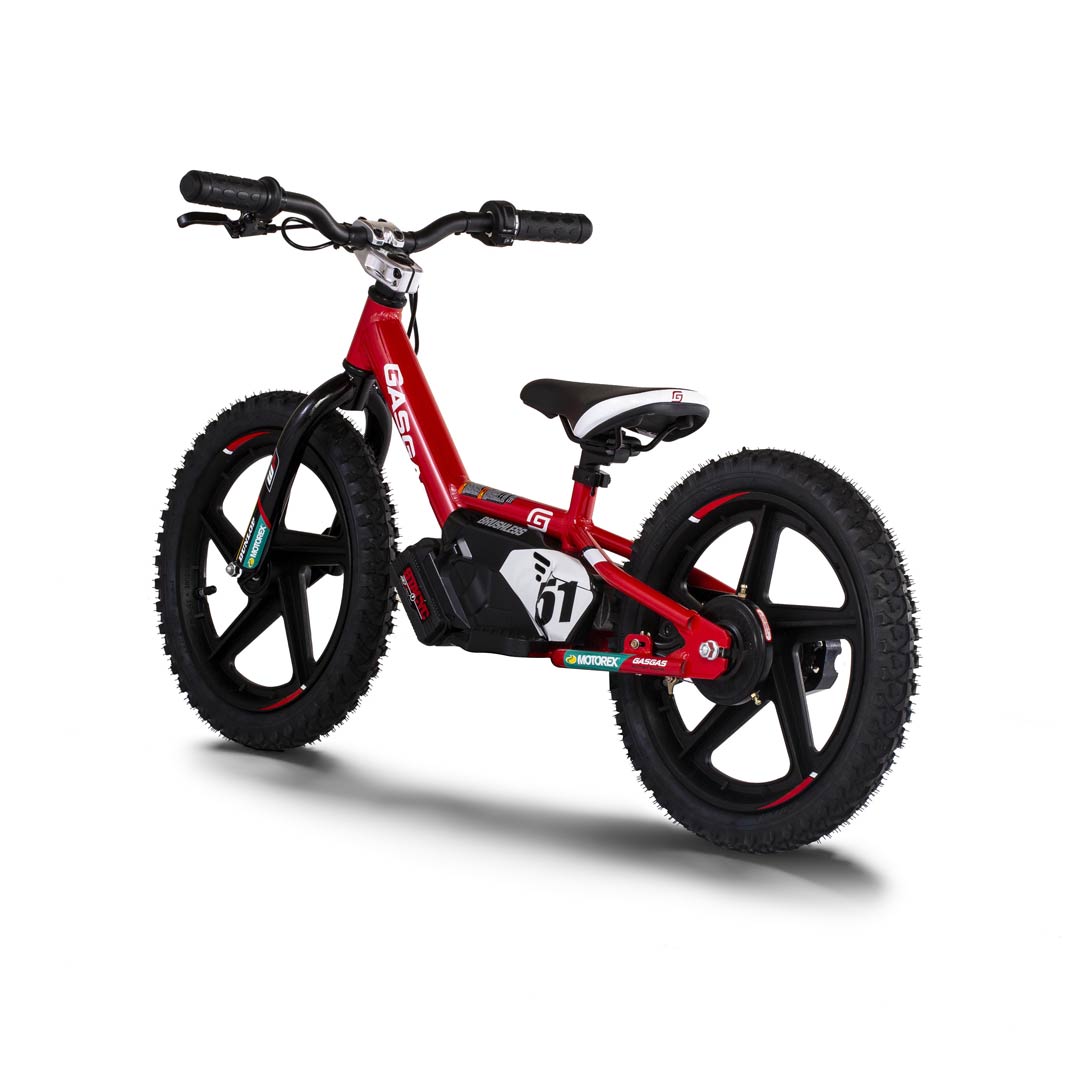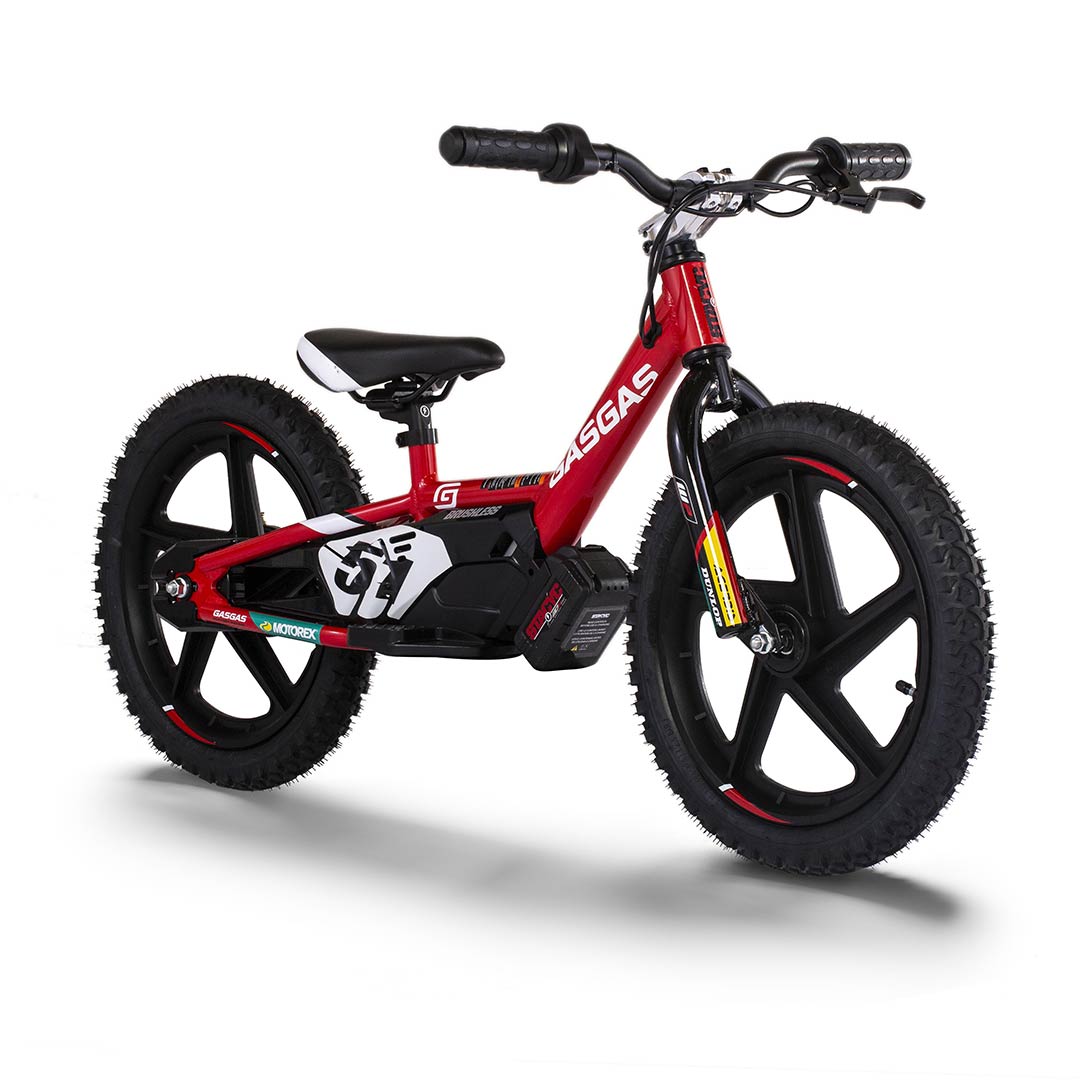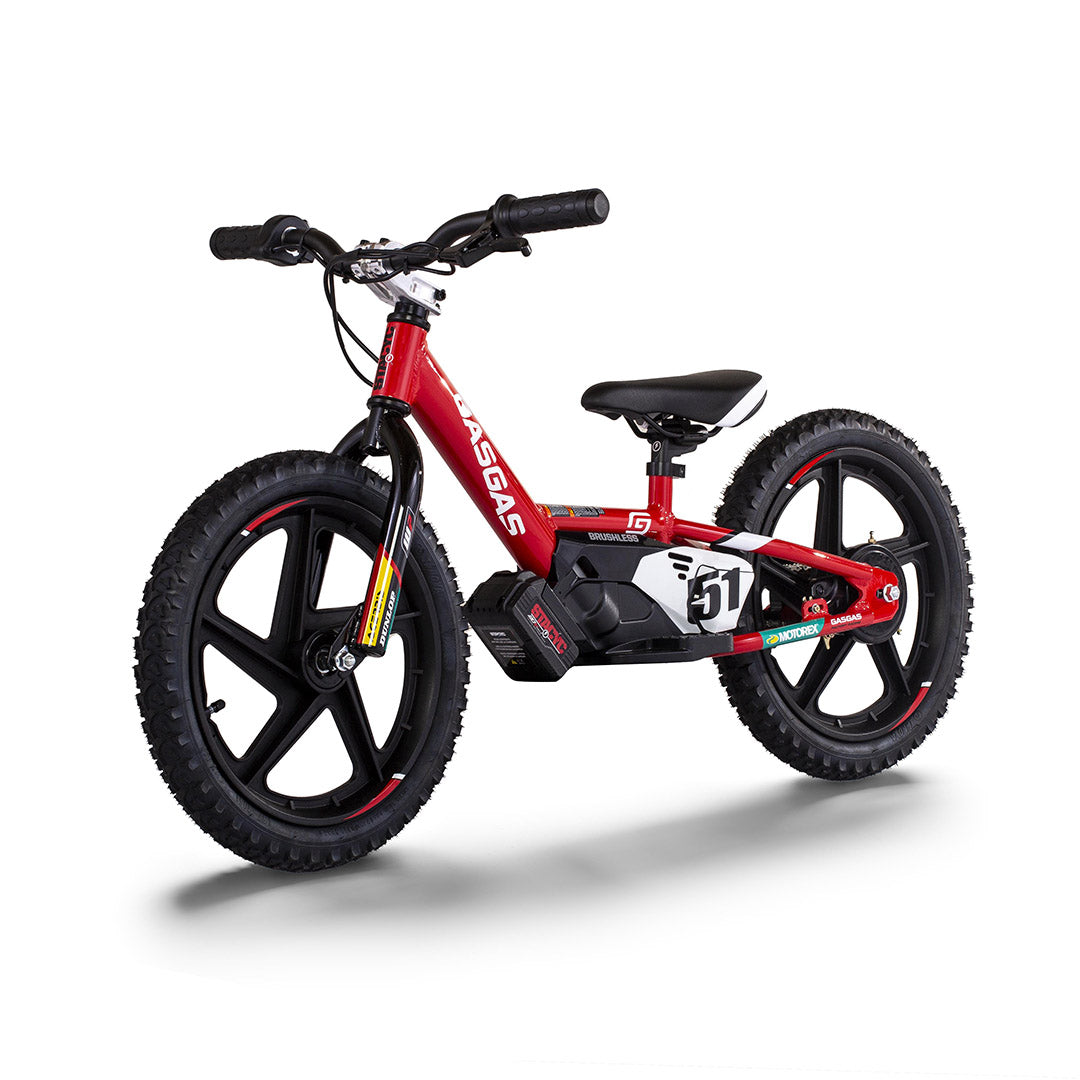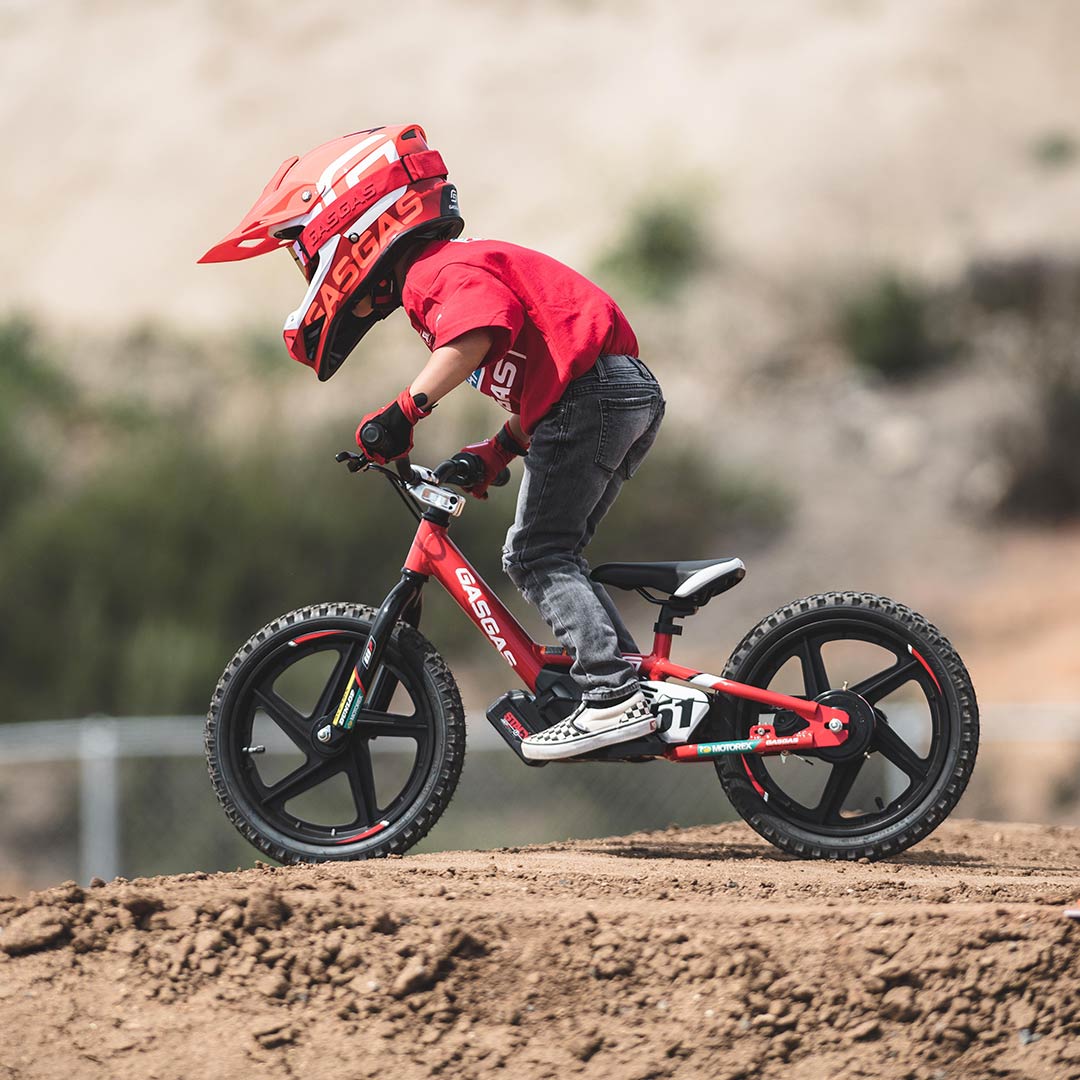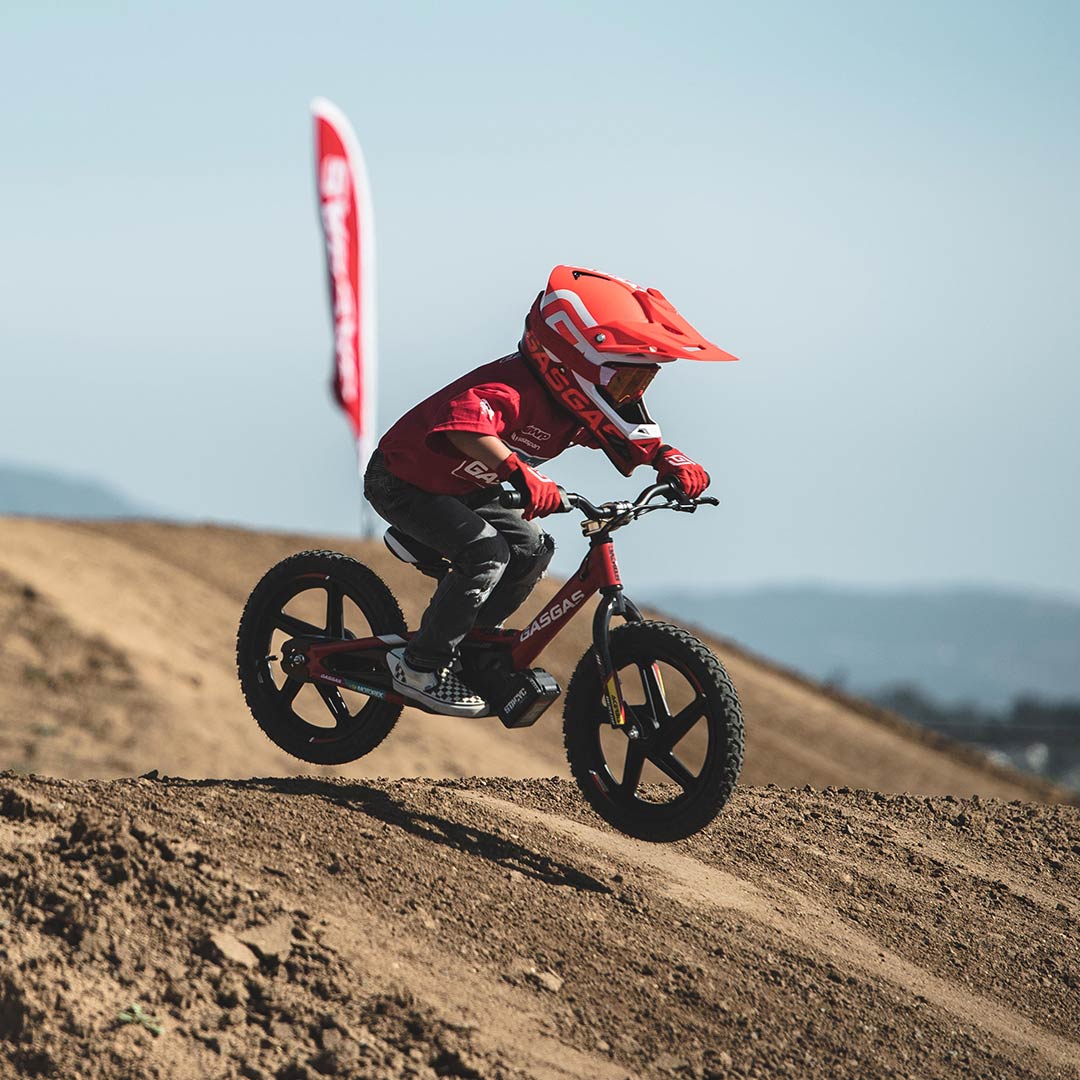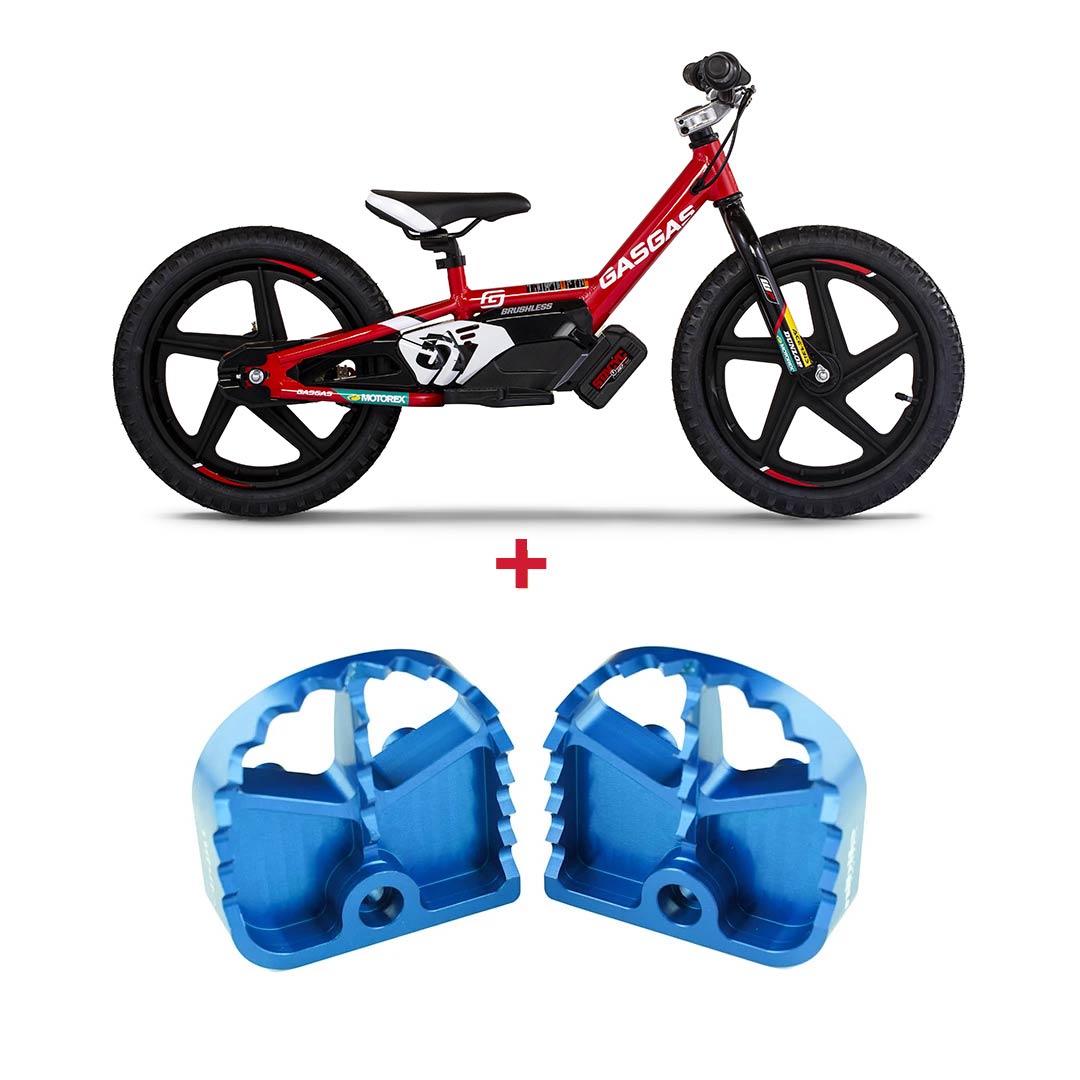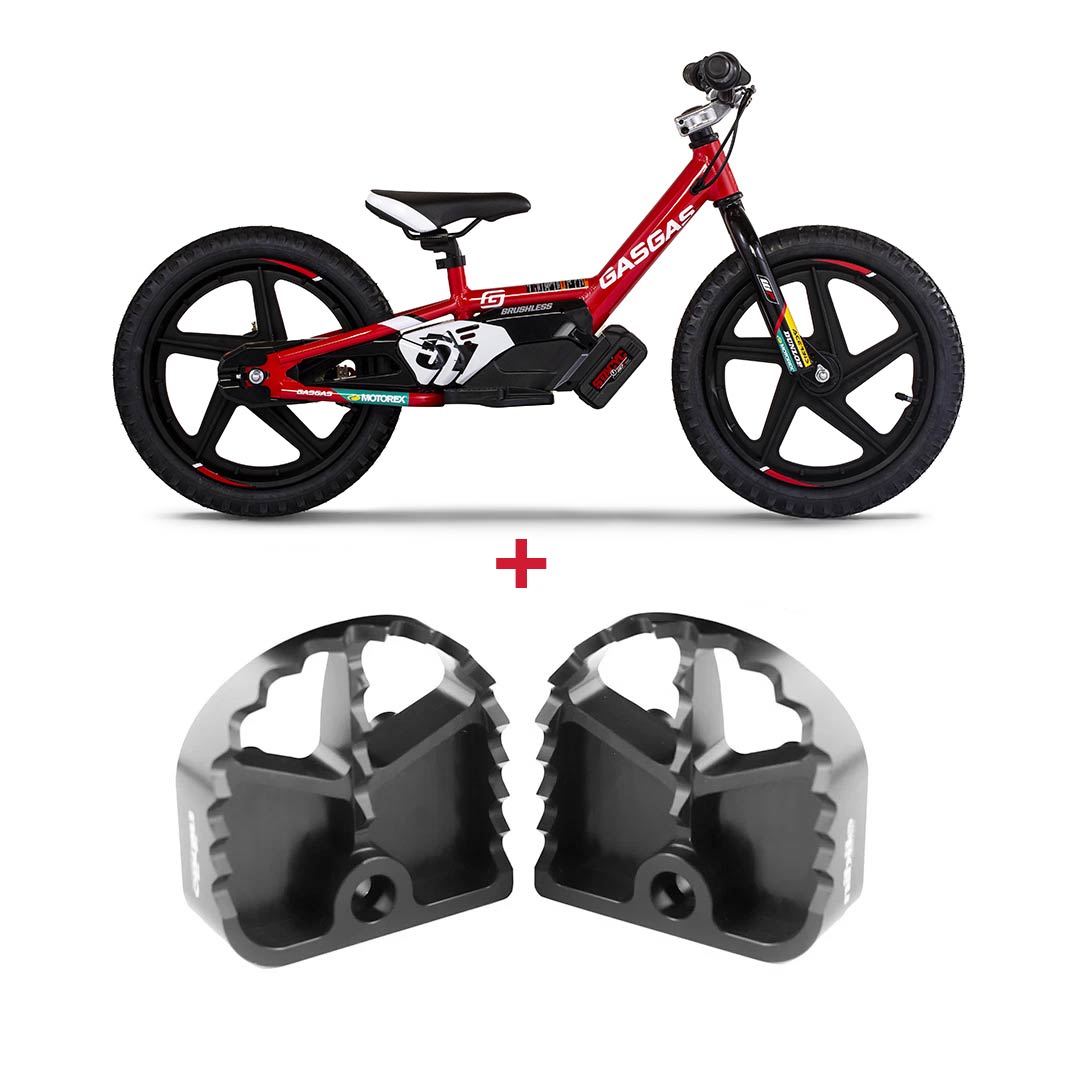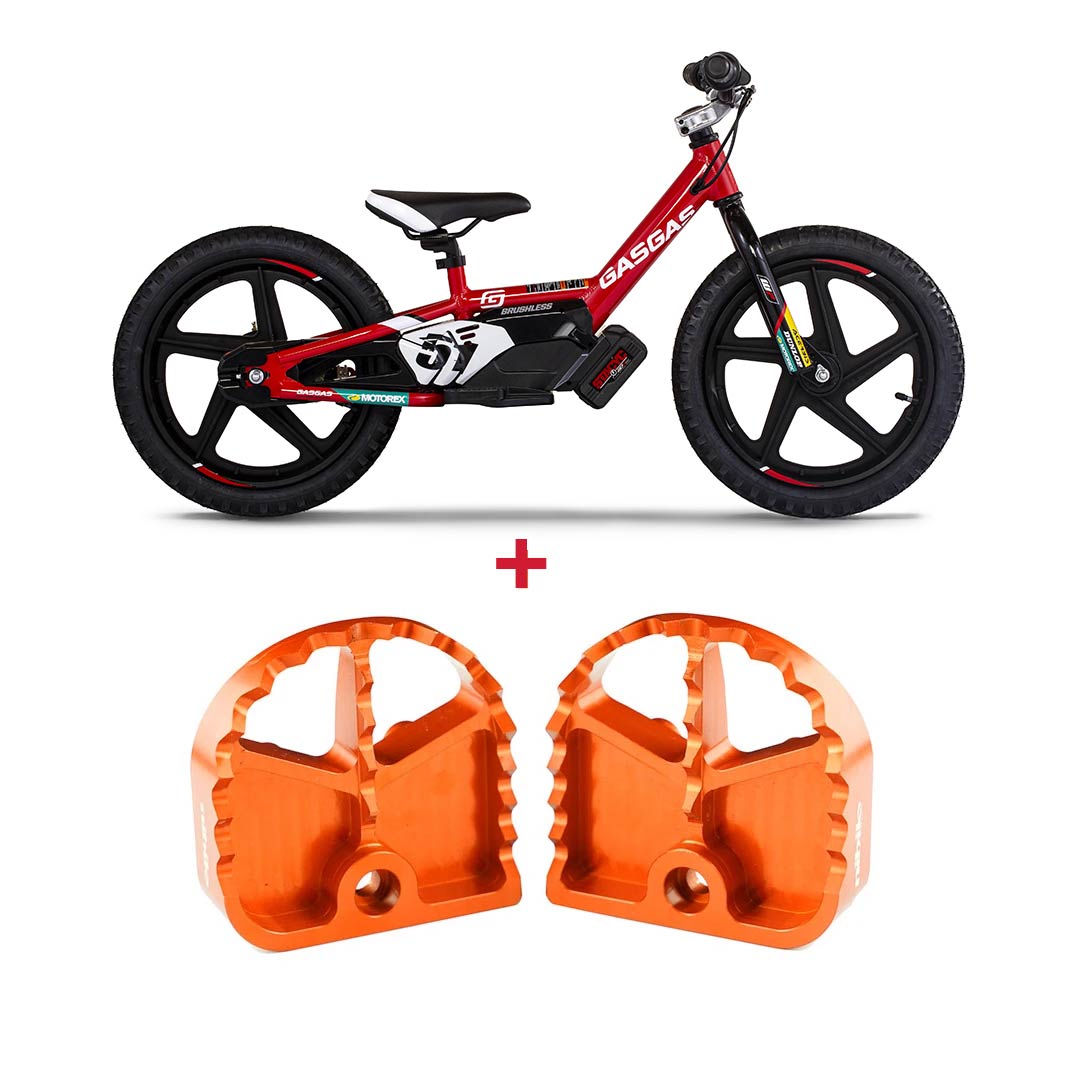 Gas Gas Factory Replica STACYC ® 16 eDRIVE
---
THE ONLY BIKE FOR FUTURE RIPPERS

THE GASGAS FACTORY REPLICA STACYC™ 16EDRIVE IS POWERED BY A HIGH-OUTPUT BRUSHLESS MOTOR, WHICH PACKS A SERIOUS PUNCH WITH ADDED LOW-END POWER AND TORQUE. 
When combined with the robust aluminum frame, offroad riding across challenging terrain can be safely explored.
The GASGAS Factory Replica Stacyc™ 16eDrive is the perfect choice for little rippers with previous balance bike experience and those that are a little too tall for our smaller 12eDrive model.
Purpose built for kids with an inseam of 45-60cm, the GASGAS Replica 16eDrive features an adjustable seat height to ensure riders maintain a slight bend in the knee, for a strong push off to get the wheels rolling as well as to keep things under full control.
Initial strides on the GASGAS Replica 16eDrive can be taken in the non-powered coast mode. Once confidence is gained and feet up cruising for short periods of time becomes second nature, the power modes can be unlocked. A modest 8kmph limit with the Training Mode selected ensures a steady pace for learning how to use a throttle and brake in a safe environment, while opening up the option to stand up and ride.
As soon as the basics are conquered, two further power modes are available as standard, which unlock the next levels of two-wheeled fun. The highest performance setting, the Advanced Mode, is capable of delivering an eye-watering top speed of 20kmph! The fun-factor then goes up another notch with the tig-welded and heat-treated aluminum frame that's strong enough to handle smaller jumps and allows kids to get some air. There's no better way for youngsters to learn how to send it than on one of our GASGAS Replica 16eDrive balance bikes! 
Perfect for 4-8yr old rippers under 75lbs, with 18-24" inseam
Frame: Aluminum TIG Welded and Heat Treatment
16" Composite Wheels with Pneumatic tires
Seat Height: 17″
Weight: 20lbs with battery
High Output Brushless Motor
High Output Brushless Motor
20% more power and than original 16eDrive
10% more efficient than original 16eDrive
Increased durability
No fuse
Thermal protection for motor and controller
Power selection modes:

Low/Training mode ~ 5mph
Med/Standard mode ~ 7.5mph
High/Advanced mode ~ 13mph (with stock gear ratio)
Industrial Grade, Lithium-ion Battery and Charger*
Quick disconnect/connect battery
20Vmax Voltage (18Vnom)
4Ah
30-60 min run-time**
45-60 charge time
*1 battery and charger included
**Run-time is entirely dependent on terrain, hills, and skill level. Run-times are estimates and can vary.
***Currently only shipping to US locations. Please contact us for international requests.